September 27, 2018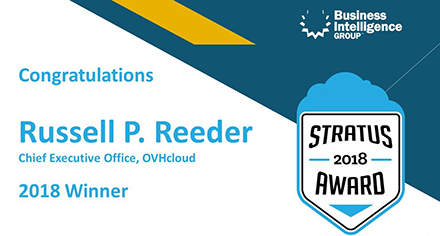 We're proud to announce that the Business Intelligence Group has awarded Russell P. Reeder, president and CEO of OVHcloud, a 2018 Stratus Award as a "Top Executive" for Cloud Computing in their annual business award program.
Russ has more than 25 years of experience. His background varies from start-up ventures to Fortune 500 companies like Oracle and Mobile Oil. Russ recently brought his wealth of expertise to the growth of OVHcloud. He drove a successful acquisition to jumpstart the OVHcloud presence in the U.S. market as a leading cloud provider. This was accomplished through an effective strategy that created and delivered operational excellence.
"I am honored to be recognized by Business Intelligence Group as a top executive in the 2018 Stratus Awards," Russ said. "The OVHcloud team has worked tirelessly to continually push the envelope of innovation as a leading cloud provider, and this recognition is testament to the growth and success we've seen this past year."
This marks the second award Russ has received this year, and the third award recognizing the leadership team. In August, he took home the gold in the CEO Achievement of the Year category in the CEO World Awards®. The same awards program named the OVHcloud management team a silver winner in the Management Team of the Year category.
"OVHcloud is clearly ahead of the pack helping to drive practical innovations in the cloud," said Maria Jimenez, chief nominations officer of Business Intelligence Group. "The cloud is now part of all of our daily lives and the staff and volunteer judges are pleased to shed a little light on these innovative services, organizations and executives."
At OVHcloud, we provide cloud infrastructure to over 1.5 million business clients in 138 countries. OVHcloud offers dedicated servers/bare metal, private cloud, and public cloud with proprietary green water-cooling technology that allows OVHcloud to save costs and pass savings to customers. We also build our own servers and operate our own data centers with a global capacity of 1.3 million physical servers and 260,000 already deployed across 28 data centers, all entirely owned by OVHcloud with servers built in-house.
This has been a momentous year for Russ and the OVHcloud team. We can't wait to see what's next as the market opportunity for infrastructure-as-a-service continues to grow exponentially.
Learn more about how award-winning CEO or explore the OVHcloud product offerings!